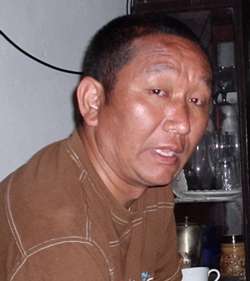 Thinlay Choklha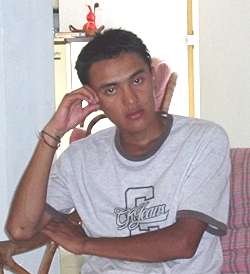 Sehreb Chophel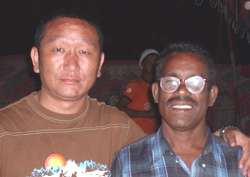 With Gandhirajan, the boat builder

Love without strings

For a fortnight from Jan 16, 2005, a group of ten Tibetans from Bodh Gaya and Dharamshala camped at the KKKUppam relief camp. They integrated very well with the villagers, playing games with the children, listening to the problems of the elders, distributing rations, books and whatever they felt was the need of the fisherfolk.

The group was led by Mr Thinlay Choklha a Buddhist Monk and Mr Sehreb Chophel, a youth leader of the Tibetan Congress. There were also 4 other monks in the group. The rest were students.

Just a couple of days before they left, they sprang the biggest surprise: a gift of 20 30'-boats with engines. They consulted ECCO and picked P Gandhirajan, our boat builder for the job. The total relief package is upward of Rs.40 lakhs.

Their aid was notable for being without strings. There were no religious or political overtones. They were such low profile folks. Naturally, members of ECCO and the Namgyal Trust stood together in the crowd on Jan 31,2005 when on the beaches of KKKuppam a huge display was organised by the Evangelical Church of India headed by Bishop Ezra Sargunam. Ministers from the centre shared the stage with the Bishop and delivered political and religious speeches. About 5 boats each were distributed to 10 villages.

The press and TV covered the event with great prominence. Between ECCO and the Tibetans we would probably do over 40 boats and yet we are ignored. Not that it matters to us, but it says something about media priorities.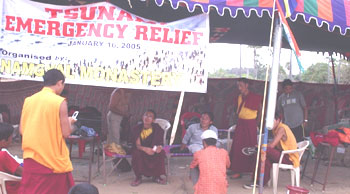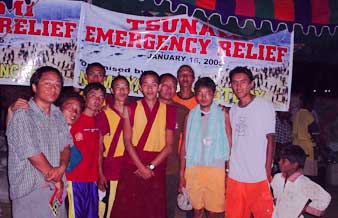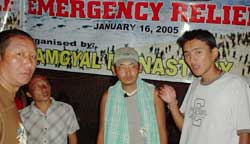 Monks from the Monastery and members of the Tibetan Youth Congress at the camp